In a bid to cut down on the cost of energy and minimize carbon emissions, homeowners are increasingly opting for cleaner and more sustainable energy options.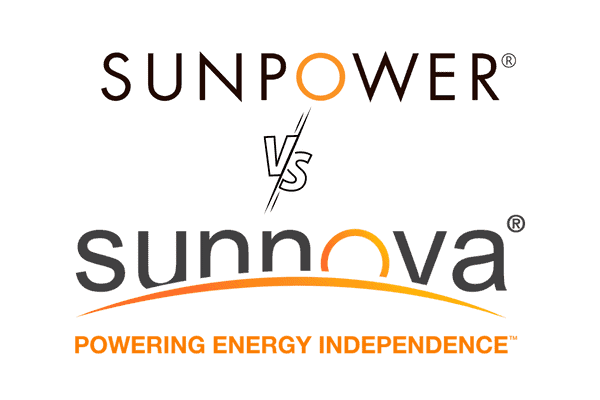 Solar power has emerged as the most preferred form of alternative energy if the statistics are anything to go by. 
With many property owners now going solar, the demand for solar panels and related products is increasing by the day.
The good news is that customers can choose their preferred provider from a large pool of solar companies. 
In this post, we compare SunPower and Sunnova, which are ranked among the biggest names in the solar industry. Continue reading to find out more about these two reputable photovoltaics companies.
Company Profile
SunPower
SunPower Corp is one of the oldest companies in the business of solar power generation.
The company was founded in 1985 as a solar research project before evolving to become a full-time manufacturer of solar systems, photovoltaic cells, energy storage, and related products.
SunPower has several service areas in the USA, but the company also serves customers around the world.
Sunnova
Sunnova is a relatively new entrant in the solar industry, having been established in late 2012.
Despite the fact that they have been in business for such a short time, Sunnova has grown in leaps and bounds to become a force in the industry, and it ranks up there with other reputable providers like SunPower and Q Cells.
The company focuses on providing residential solar and energy storage solutions to customers in the U.S. and its territories.
They also offer roof replacement services to customers who are ready to go solar
Verdict:
Both solar providers are great in their own right, so one cannot pick a winner here based on the company profile only.
Solar Panel Type and Design
Solar panels come in different types, shapes, and designs, and there are three types to consider, including monocrystalline, polycrystalline, and thin-panel films.
Out of these, monocrystalline solar panels are the most efficient in energy generation given that they are made from pure silicon, unlike other panels that consist of a mix of different materials.
With that said, SunPower Corp manufactures all three types of solar panels through their subsidiary company, Maxeon Solar Technology.
The Singapore-based company is renowned for producing high-performance solar panels for residential and commercial use.
Sunnova focuses on manufacturing monocrystalline solar panels for residential use. This means that customers have limited options as far as picking their preferred choice.
However, monocrystalline solar panels are highly efficient thus making up for the limited options.
Verdict:
SunPower wins this contest since they offer customers more options as far as solar panel types and designs are concerned.
Efficiency and Output Rating
The efficiency of a solar panel is the percentage of solar energy it is able to convert into useable electricity while the output rating is simply the amount of electricity produced when the solar system is working under optimal conditions.
Most solar panels have an efficiency rating of between 11 and 15 percent. The reason for this low percentage varies from solar type, insulation resistance, and temperature changes.
SunPower Corp solar panels have a maximum efficiency of 22.8 percent with an output rating of between 360 and 500 watts.
In contrast, Sunnova solar panels have a maximum efficiency of 19.6 percent with an output rating of up to 340 watts.
Verdict:
SunPower Corp solar panels are more efficient and they have a better output rating compared to Sunnova.
Price Bracket
No doubt, the upfront costs of installing solar can be expensive at first. However, if you consider the benefits that solar energy has to offer, you will notice that your solar system will pay itself back over time.
SunPower Corp has the highest upfront costs compared to other brands.
After all, no other brand matches the efficiency and performance of SunPower (Maxeon) solar panels.
The panels provide excellent value for money and to make up for the high costs, SunPower offers customers a variety of flexible lease, loan, and purchase options. 
Sunnova solar panels are comparatively affordable. Given that the company focuses on home solar solutions and they are still new in the market, their solar systems are relatively cheaper than SunPower solar panels.
The company also has a $0 upfront financing option for qualified buyers but you have to pay a specified amount monthly for the duration of the program.
Verdict: Sunnova solar panels are cheaper but SunPower solar systems are better in terms of performance.
When comparing the two companies, SunPower solar panels offer good value for money.
Also read SunPower (Maxeon Solar) Vs. Sunrun
Manufacturer Warranty & Service
SunPower solar panels come with warranty coverage of 25 years. It covers system repairs, replacement of defective parts, labor, and shipping at no additional cost.
Similarly, Sunnova offers a best-in-class warranty of 25 years that covers all system components and it includes repairs and maintenance.
While SunPower Corp has a worldwide customer base through their subsidiary company, Sunnova focuses on providing home solar solutions to customers in 32 US states and territories.
Verdict:
Both companies tie as far as warranty coverage is concerned. In any case, SunPower and Sunnova all offer customers a 25-year service warranty on all their solar panels.
Overall Quality
The quality of SunPower solar products is simply incomparable. Since 1985, SunPower has been researching and refining its products to ensure they manufacture the best solar panels in the market. 
Sunnova solar panels do not match the quality of SunPower solar panels. Besides, Sunnova is somewhat secretive in revealing the solar brand that they use for their home installations.
Verdict:
The overall quality of SunPower panels is far more superior compared to Sunnova. SunPower has invested heavily in research to ensure that they produce lasting, high-quality solar products.
Real-World Performance
Real-world performance is an assessment of how well a solar system can work in prevailing conditions.
In case you didn't know, the performance of a solar system is greatly influenced by factors such as temperature, shading, dirt or dust, and available sunlight.
The temperature coefficient impacts the real-world performance of a solar panel, whereby the lower the coefficient the better the performance.
With that said, SunPower solar panels have a temperature coefficient of -0.34% while Sunnova home solar systems have a temperature coefficient of -0.36%.
Verdict:
Sunpower panels have better real-world performance and can work efficiently in tough conditions.
Reviews and Industry Experts' Feedback
Solar installation is a major investment. For this reason, you need to shop around, compare prices and listen to opinions from experts before installing one in your home.
A good way to judge the reputation of a company is to compare various customer reviews available online.
You also need to read feedback from industry experts before making your final purchase decision.
SunPower has a high rating of 4.58 out of 5 on solarreviews.com while Sunnova has a very low rating of 2.55 out of 5.
Moreover, many customers seem unhappy with the services offered by Sunnova.
Verdict: SunPower has a better reputation with customers in terms of service delivery
Customer Support
SunPower offers round-the-clock support during office hours from Monday (6 am to 7 pm) to Saturday (7 am to 4 pm). You can reach the customer support agents via email, phone, or live chat. 
The customer support agents at Sunnova are calm and collected, but the company has received numerous complaints concerning their support services if the reviews highlighted above are anything to go by.
Nevertheless, you can contact support via email, phone, or live chat during working hours from Monday to Friday (7 am to midnight), Saturday (7 am to 9 pm), and Sunday (Noon to Midnight).
Verdict:
Sunnova has longer working hours, meaning they are always ready to attend to customers around the clock.
However, the numerous complaints about their services mean that SunPower has better customer support.
Is SunPower an American company?
Yes. SunPower is an American Company that focuses on solar power generation and solar energy storage.
It was founded in 1985, and it has its headquarters in San Jose, California, USA. However, SunPower solar panels are not made in America.
The company manufactures its solar panels through their subsidiary company called Maxeon, which is based in Singapore.
Some panels are made in the Philippines and Malaysia and then assembled in France and Mexico.
Which solar company has the best reputation?
According to solarreviews.com, the solar company with the best reputation is Panasonic with a score of 4.83 out of 5.
SunPower is ranked 6th with a score of 4.58 while Sunnova does not appear in the top 10 of the most reputable companies due to its poor rating.
Is Solar Reviews reputable?
Yes. Solar Reviews (solarreviews.com) is a reputable website where you can get reliable information about various solar companies, installers, and solar products.
The website receives feedback from customers and experts in the industry regarding a variety of solar companies.
The site also rates various solar providers based on the feedback provided by customers and experts.
Final verdict
After comparing SunPower and Sunnova, it is clear to see that SunPower has an upper hand in nearly all aspects.
The company manufactures high-quality solar products for residential and commercial use.
Although a bit pricey, SunPower solar products are more efficient and they offer better performance compared to other brands.
About Post Author