If you are up to living a sustainable lifestyle, you must think of practicing Zero-waste. With the growing population and urbanization, waste management might appear to be stressful. But it is not.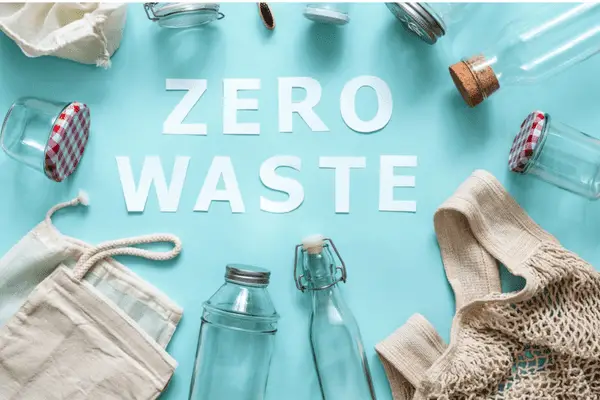 The best solution is to start reducing the waste you produce so that it's easier to manage eventually. Here are a few steps to living a zero-waste lifestyle for a beginner.
Zero Waste Lifestyle For Beginners
Observe Your Trash
The most important part is to figure out your trash. This will make you realize what products you usually waste. It will help find sustainable alternatives. And you'll start wasting products 'wisely'.
Refuse Unnecessary Products
Start with simply saying 'no' to the items you don't need. This also includes not taking promotional items and avoiding unnecessary product packaging. The 5R hierarchy of waste management starts with 'refusal'.
It might be difficult to practice in beginning but trust me, this is the most effective way of minimizing waste.
Use Up What You Already Have
Waste can also be reduced by reusing the items you already own. You don't always need to replace them with zero-waste alternatives.
First, see if you have reusables at home or if you can create some with DIY ideas. Just like these milk bottles reused as planters. The best thing to do is to stop yourself from buying new products.
Only Buy What You Need
Bring fewer items at home so it's easier for you to manage. This is as simple as that. This principle applies to every item, whether it's food, clothing, toys, or furniture. Rethink what you need. Prefer long-lasting products. Buy second hand. Be aware.
Recycle, Recycle, Recycle
Using recyclable products can greatly reduce overall waste. Sort recyclable items in your trash. Such as glass, plastic, paper, tin, aluminum, and cardboard.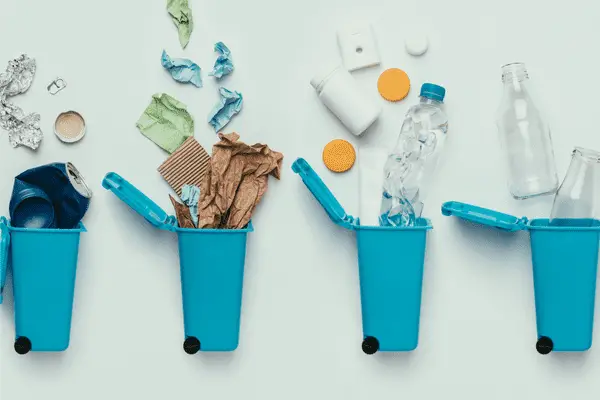 Find out a recycling facility nearby. Swap a few items that you use. Here are a few everyday non-reusable items that can easily be replaced with recyclable products;
Minimize Food Waste
Plan your meals and use leftovers for making jams and sauces. This will be budget-friendly too. Buy loose vegetables and fruits whenever you can.
Compost
Compost your food scraps. There are different ways of composting both indoor and outdoor. And some towns may also have compost dispose of locations.
Read more about How to dispose of harmful materials.
Don't Buy Single Servings
The best way to reduce packaging materials is to shop in bulk. You can use reusable containers like jars to store cereals. Buying the largest size available can be a good option too.
Bring Your Lunch/Utensils/Bottles/Cloth Bags
Do you know 'Disposable lunches produce a hundred pounds of trash per person annually'?
Bring your lunch in a reusable lunch box to your workplace.  You can also buy reusable cutlery for your office. These can easily fit in your bag or purse.
Just wrap a spoon and fork in a cloth napkin and you are ready to go. Similarly, stop buying plastic water bottles. And purchase a good reusable water bottle.
You can even reuse an empty glass bottle for this purpose instead of buying a new bottle.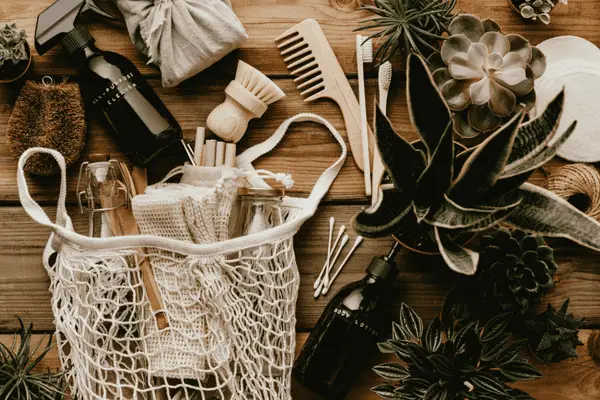 Buy eco-friendly products
Read more about eco-friendly Refrigerators.
Final Thoughts
Remember you cannot go zero-waste overnight. Start taking baby steps. With these tips, I hope the little changes in your lifestyle become easier, more practical and budget-friendly.
Just follow the simple formula,
"Waste not what the Earth gives us."
About Post Author