Miele and Bosch are undoubtedly among the biggest names in home appliances. Whether you are looking for a high-end dishwasher or a top-quality oven, these two names will always pop up in your search list. 
Both brands share unmatched reputations in the industry thanks to their consistency in producing exceptional products.
For these reasons, it can be somewhat overwhelming for any shopper to choose between the two makes.
This post compares Miele and Bosch ovens from every aspect to make picking the ideal unit for your needs easier. Keep reading to find out more!
Which is better, Miele or Bosch?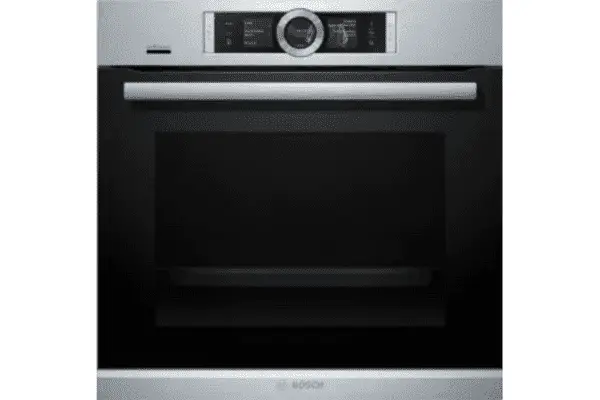 For many consumers, deciding which is better between Miele and Bosch is a matter of personal preference.
Some people prefer Miele simply because of the brand, while others may opt for Bosch because it is a more familiar name. 
Miele seems to have the edge over Bosch since they specialize in high-quality home appliances while Bosch focuses on budget offerings, which cannot match the quality of Miele ovens. 
Secondly, Miele manufactures all their parts, including sensors, motors, and electronic modules, which they use to make their ovens, while Bosch sources their oven components from other firms. The difference in consistency has an impact on the quality of the units.
If you didn't know, Miele manufactures most of its products in Germany while Bosch has production sites in different countries.
Even though the manufacturing process might be uniform for all Bosch ovens, the end product may slightly differ depending on the target market. In essence, a Bosch oven sold in the USA is somewhat different from that sold in France.
Miele also has a broader selection of ovens, including single ovens, speed ovens, steam ovens, steam combination ovens, and steam oven with microwave. On the other hand, Bosch only offers single ovens that are available in built-in and compact forms.
Here is a detailed comparison of the two brands:
Design & Quality
Miele ovens are available in different styles and designs. The firm offers customers a broader selection of ovens than Bosch, which only has single ovens.
If you want a speed oven, a steam oven, or an oven and microwave combo, you can depend on Miele to deliver. Bosch compact and wide built-in ovens are no match to Miele's selection.
In terms of quality, Miele is simply incomparable. The company builds its own components, meaning you can be sure of the quality. In contrast, Bosch sources parts from different firms, hence the quality may not be consistent.
Verdict: Miele wins hands down
Functionality and Features
Measuring the difference in the functionality of Miele and Bosch ovens is somewhat complex since both units perform as expected. Whether you want to grill, roast, heat, or bake, you can expect Miele and Bosch ovens to deliver.
When it comes to features, Miele has the upper hand. Miele ovens have more smart features and programmable settings than Bosch ovens. In any case, Miele specializes in producing high-end appliances with premium features.
Verdict: The two brands tie in functionality, but Miele has an upper hand in terms of features
Cooking Performance
The cooking performance of Miele ovens is slightly higher than that of Bosch ovens. However, this depends on the type of oven you are using. Since Miele has a broader range of ovens, most of their units likely offer a better cooking performance than Bosch.
Verdict: The cooking performance of both brands is comparable, but Miele has the edge since they have a broader selection of ovens to choose
Ease of Use
Using an oven should be straightforward. However, this is not always the case when using a luxury oven. These ovens come with so many features that require some time to grasp how things work. 
The good news is that your Miele and Bosch oven will come with an instructions booklet for reference. You do not have to be a pro chef to cook various delicacies. Both ovens have programmable settings and pre-set modes that allow you to cook any food with relative ease.
The best part is that they are effortless to clean and maintain. Some ovens are self-cleaning, so you do not have to worry about washing up after cooking.
Verdict: Both ovens are easy to use and clean
Energy Efficiency & Eco-friendliness
Both Miele and Bosch ovens are Energy Star certified for energy efficiency. Most Miele ovens are classified as energy efficiency class A+ due to their low energy consumption. However, this is not the case with Bosch ovens.
Miele is best known for its environmentally-friendly refrigerators but not for eco-friendly ovens. Moreover, not many people associate Bosch with eco-friendly products.
Nevertheless, both brands have shown commitment to sustainable production by enforcing various measures to protect the impact of their activities on the environment.
Verdict: Miele wins in terms of energy efficiency, but both brands tie in eco-friendliness
Price
Miele ovens are arguably the most expensive units in the market, but for a good reason. Their ovens are top of the range for their quality, functionality, reliability, and durability.
In contrast, Bosch offers decent ovens at pocket-friendly prices. However, their ovens have a considerably shorter lifespan than Miele's.
Verdict: If you are searching for a budget-friendly oven, consider Bosch, but if you want an oven that offers actual value for money, then go for Miele.
FAQs
Is Miele and Bosch the same company?
No. Miele and Bosch are two different companies. While Miele specializes in domestic and commercial appliances only, Bosch is a conglomerate dealing in various products ranging from home appliances to automotive parts to security systems.
The only similarities are that both corporations have their headquarters in Germany. They also have a global clientele base, even though their primary manufacturing plants are in Germany.
Another connection is that both Miele and Bosch are over 100 years old. Miele has been in business since 1899, while Bosch is relatively older, having been in business since 1886. 
Who makes Bosch appliances?
Bosch appliances are exclusively made by the parent company, Bosch. Initially, Bosch was in a joint venture with Siemens Hausgerate, with both companies having a 50 percent stake.
However, Siemens sold off their 50 percent share to Bosch, making them Europe's largest manufacturer of home appliances.
However, it's worth noting that Bosch is a conglomerate with dozens of other home appliances makers under their portfolio. The BSH group owns Thermador, Gaggenau, Neff, Junker, Balay, Pitsos, Profilo, Coldex, and Constructa, among many others. 
These global and local brands specialize in modern home appliances, but all their units and products bear their logos rather than the Bosch Logo.
Is Miele more expensive than Bosch?
Yes. Miele is more expensive than Bosch. However, both brands provide customers with a decent range of prices on all their home appliances.
Miele products are seemingly more expensive than Bosch because Miele focuses on high-end appliances, while Bosch has both budget and premium offerings. 
Moreover, Miele promises to manufacture the highest-quality home appliances that can last twice as long as a typical Bosch budget appliance.
Is Miele made in China?
Miele has several production sites around Europe and one manufacturing facility in Dongguan, China. The manufacturer produces most of their appliances, including ovens, in their German facilities. 
The Miele factory in Dongguan, China, handles vacuum cleaners and related components.
Conversely, the Miele European production sites manufacture motors, sensors, and electronic modules for their home appliances.
Even though Miele produces their own replacement parts, they also source some parts from other countries to help keep the prices of their products down.
Are Bosch ovens made in China?
No. Bosch ovens are not made in China. The facility in China only produces refrigerators, dishwashers, and ventilation systems.
Even though Bosch has manufacturing plants in China, it predominantly makes its ovens and cooktops in Germany.
However, the company sometimes turns to its manufacturing plants in Italy and Spain to help handle the rising demand for Bosch ovens. 
Does Whirlpool own Bosch?
No. Whirlpool does not own Bosch. Whirlpool is an American multinational manufacturer, while Bosch is a German multinational with interests in various product lines. 
The brands are two varying conglomerates with different companies under their portfolios. Whirlpool owns KitchenAid, Maytag, Amana, and Jenn-Air, while Bosch owns Thermador, Gaggenau, Junker, and Neff, among other companies.
The only connection between Whirlpool and Bosch is that they both produce modern home appliances of the highest quality.
Final Verdict
Miele ovens are certainly better than Bosch in nearly all aspects. The company has invested heavily in its manufacturing facilities and processes to ensure they produce the highest-quality appliances. 
Miele produces everything on its own, from sensors to motors to electronic modules, unlike Bosch, which sources parts from elsewhere.
Since Bosch manufactures their ovens in different facilities, it's not easy to guarantee that the quality of these appliances will remain consistent.
The only slight concern about Miele ovens is that they are expensive. However, Miele makes up for this by producing high-quality ovens that last twice as long as typical Bosch ovens.
About Post Author