Siemens is Europe's largest industrial manufacturer, producing everything from phones to ovens to dishwashers. 
Ironically, one of its biggest competitors, Miele, is also a German company. The two companies are arguably the most trusted producers of kitchen appliances in the world. 
This article examines their best offerings and ends with an informed recommendation on which company's ovens to buy.
Is Miele Oven Better Than Siemens?
Miele ovens are better in both form and utility than Siemens. However, this wasn't always the case. Siemens used to produce higher quality products when it was a single company and made all its products in Germany. 
But since 2015, Siemens became a subsidiary of the Bosch Group. Consequently, Siemens ovens are now manufactured across multiple factories in the USA, Germany, and even China. 
While this ensures they remain affordable, it also degrades quality as each of the manufacturing plants targets different markets.
On the contrary, all Miele ovens are manufactured in their 12 plants in Germany, which allows for quality standardization. As such, whatever oven you buy, you can be sure it will work almost the same way. 
With Siemens ovens, the quality you get depends on where the oven was manufactured.
Is Miele More Expensive Than Siemens?
Yes, Miele tend to be pricier than Siemens products. 
In general, a good Miele in-built oven costs an average of $2,000 while you can get a decent Siemens model for as low as $900. 
The differences have little to do with the build qualities as they both are pretty good. However, there are differences in features. 
Miele ovens come with lots of utility features, from sophisticated displays to self-cleaning modes. Developing these features is expensive, which is reflected in the price tags. 
Is Siemens A Good Oven Brand?
Yes, Siemens has a global reputation as a great manufacturer of electronics and home appliances. That is no different when it comes to ovens. 
Despite the inconsistencies in production, Siemens ovens still rank highly in terms of design, user-friendliness, and convenience. 
The fact that most models come with 5-year warranties proves that these models are built to last. 
Is Miele Oven Worth The Money?
More often than not, Miele ovens justify their price tags. They are built from high-quality materials and come with the latest technological features designed to increase ease of use. 
Their designs are also sleek and modern, and add an undeniable touch of class to every kitchen they are installed in.
Is Siemens Made By Bosch?
Yes. Bosch wholly acquired Siemens in 2015 and subsequently took over all its operations. 
While Siemens factories have their own work modules and produce differentiated products, everything is controlled from the Bosch headquarters. This includes the purchase of production parts, process control, and marketing.
There are even instances where Siemens and Bosch products are produced in the same line. An example of this is the Bosch India plants, where most workers and plant engineers work on the two products.
Nonetheless, the two product lines are different from each other. For one, Siemens products are more expensive than Bosch as they are made for the high-end market. They are also comparatively more stylish and have more fancy features. 
In terms of popularity, Siemens is by far the more recognizable brand as it receives a bigger marketing budget.
Where Are Miele Ovens Made?
Miele ovens are primarily manufactured in its global headquarters in Gütersloh, Germany. To allow for efficient manufacturing, the production plant is divided into two sections.
The first section is the Appliances plant, which typically produces all appliances affiliated with Miele, including ovens, washing machines, and dishwashers. 
This section has a large oven plant that creates most of the Miele ovens sold globally. The whole oven-making process, from the research and design to the production of the outer casings, is done there.
The second section is the Smart Home/Electronics line, which deals with electrical fittings. This is where the electrical components of the Miele electric ovens are developed, manufactured, fitted, and tested.
With the demand for electric ovens set to increase drastically in the coming years, the Electronics line can only get bigger.
The company has already launched a fairly large Electronics Division in Brasov, Romania. The plant follows the same procedures and standards as the corresponding division in the main factory.
The decision to open the plant was presumably to lower the labor costs and meet rising demand.
Also read Is Gaggenau Better Than Miele?
Are Expensive Ovens Worth It?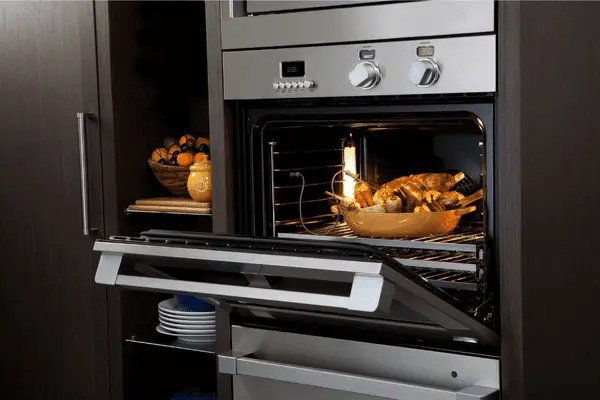 In most cases, yes. Spending more on an oven will get you additional power, convenience, and durability. Plus, you can find more eco-friendly options.
For instance, the Miele H7780 BP2 is not only one of the most expensive ovens but also the best in the Miele catalog. 
Apart from near-perfect heat distribution, the oven is also very easy and enjoyable to use. It has a sophisticated navigation interface that allows you to choose between 18 cooking modes. 
It also offers advanced safety features, including automatic shut-offs and system locks.
On the other hand, cheap ovens lack sophisticated and sleek controls. They usually have generic ones. They are thus harder to control, not to mention their limited range of cooking modes. 
Secondly, they are made from cheaper, low-quality materials that don't last long. Most importantly, very cheap models may lack reliable safety features and are more likely to cause fire accidents.
Nonetheless, the fact that an oven has a ludicrous price tag does not necessarily make it better. You need to pay close attention to its features and consumer reviews before making any purchase.
How Long Do Siemens Ovens Last?
A higher-end Siemens oven can last around 15 years, depending on usage and maintenance. On the other hand, cheaper models will typically give you about 6-10 years of utility. 
Siemens is so confident about the longevity of their ovens that they often give out 5-year warranties. 
To keep your oven going for longer, you need to take good care of it. This means you need to clean it after use, keep the door seal intact, and clean the filters regularly. 
Final Verdict 
Miele ovens are superior to Siemens ovens mainly because they make every component that goes into their ovens, including the smallest sensors. 
This gives them a higher degree of quality control than Siemens, who source parts from different suppliers. 
The only downside about Miele ovens is the high costs that make them out of reach for many people. However, their incredible longevity and sophistication more than makeup for this.
About Post Author