Buying a simple household appliance as a fridge has never been so confusing. Today's high-end refrigerators come equipped with many innovative features ranging from automatic temperature controls to Wi-Fi connectivity.
Others have ice makers, water dispensers, and convertible compartments, leaving you spoilt for choice when shopping for one.
This post compares Liebherr Monolith and Gaggenau – refrigerators from two of the most prominent luxury appliance manufacturers. 
Check out these comparisons to find out which of the two is ideal for your refrigeration needs.
Company Overview
Liebherr
Liebherr is a family-owned German-Swiss company established in 1949 by Hans Liebherr. I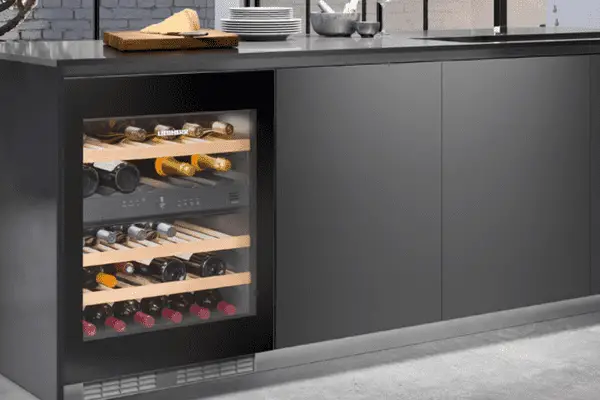 nitially, the manufacturing firm had its base in Germany before moving its headquarters to Bulle, Switzerland.
The company specializes in the production of construction machinery, agricultural equipment, and refrigerators.
The firm also has interests in aircraft equipment, machine tools, mining equipment, and earth moving equipment. 
Most customers, however, know Liebherr for their Monolith refrigerators and freezers.
Gaggenau
Gaggenau is one of the oldest manufacturers in the world, having been established in 1683.
The German-based company is renowned for its high-end domestic appliances ranging from ovens to microwaves. 
The company was the first appliances manufacturer to produce the combi-steam oven for home users.
It also manufactures premium microwaves, induction cooktops, convection ovens, freezers, and refrigerators.
Product Quality
Liebherr is a renowned brand as far as producing top-quality refrigerators is concerned.
Even though the company manufactures various products, many consumers know them for premium fridges, integrated freezers, and wine cabinets. The primary reason for this revolves around the quality of their refrigerators.
No doubt, Gaggenau also produces high-quality premium refrigerators.
However, the company is best known as the first appliance manufacturer to develop a combi-steam oven for home use.
They are also renowned for their premium convection ovens, microwaves, and cooktops. 
Verdict:
Both companies produce top-quality refrigerators, but Liebherr has an advantage since they focus more on refrigeration than Gaggenau, which concentrates on steam ovens.
Style and Design
When shopping for a luxury refrigerator, you need to consider the style and design of the unit.
High-end refrigerators have unique designs defined by different door configurations, food compartments, organizational drawers, and edge-to-edge shelves.
Liebherr Monolith fridges boast a classic design featuring premium materials and impressive aesthetics.
The style and design of these refrigerators is a culmination of 65 years of refrigeration expertise and innovation. The highlight of Liebherr Monolith is their 84" luxury refrigerator
Gaggenau offers its customers a selection of up 39 refrigerators available in different styles and designs.
Their refrigerators have stainless steel interiors, intelligent lighting, and multiple door configurations.
Verdict:
This contest is almost a tie, but Liebherr Monolith carries the day since they have a wider variety in terms of style and design.
Smart Features
For a fridge to qualify as a luxury refrigerator, it must come with smart features. Thankfully, both Liebherr Monolith and Gaggenau do not disappoint on this front.
Top features include automatic temperature control, intelligent cooling technology, programmable schedules, and Wi-Fi capabilities.
Gaggenau boasts of the Home Connect app that allows you to control your fridge from your smartphone. The app essentially unlocks the remote control of your refrigerator. 
Conversely, Liebherr Monolith has BioFresh Technology that automatically creates the ideal environment to keep your food fresh for longer while retaining nutritional content.
Verdict:
This is a tie since both refrigerators have impressive smart features
Energy Efficiency
When buying a luxury refrigerator, many users often worry about energy consumption. In any case, most premium fridges come with dozes of features that seemingly consume a lot of power.
However, the latest high-end refrigerators are also the most energy-efficient. They come with several features to help control the amount of energy the fridge consumes.  
Both Gaggenau and Liebherr Monolith have automatic temperature controls and intelligent thermostats to help manage energy consumption.
Besides, they are both ENERGY STAR certified to indicate they meet the highest energy efficiency standards. 
It's worth noting that Liebherr won an Energy Star award as the most energy-efficient company in 2016.
Verdict:
The contest on energy efficiency ends in a tie
Sustainability (Eco-Friendliness)
In a bid to protect the environment and conserve our natural resources for future generations, consumers are now giving matters to do with sustainability the seriousness it deserves.
Various surveys show that customers prefer associating with companies that use recycled or eco-friendly materials in their manufacturing processes.
Refrigerators are among the biggest culprits as far as degradation of the environment is concerned.
Older fridges tend to be harmful to the environment since they use CFC and HCFC refrigerants and release these toxic gases into the atmosphere.
The good news is that newer fridges no longer use CFC and HCFC refrigerants. Instead, they use safer alternatives like isobutene and carbon dioxide, which are environmentally friendly.
Both Liebherr and Gaggenau are significant players in the production of eco-friendly refrigerators. The two firms ensure that all their manufacturing processes have the least impact on the environment.
They also use recycled and eco-friendly materials to produce their refrigerators.
Verdict:
Even though both companies advocate for eco-friendly processes, Liebherr has the edge thanks to their "Thinking Green" appliances and refrigerators
Noise Level
Some fridge models can be noisy when operating, especially after adjusting the thermostat to a higher level.
That's not all. The plastic and metallic components of a refrigerator tend to expand and contract with temperature fluctuations. These changes can cause your fridge to make cracking and crackling noises.
Nevertheless, luxury refrigerators do not have these problems. They are super-quiet, and you won't even notice they are on.
While regular fridges have a noise level of about 47-50 decibels, high-end refrigerators tend to have a noise level below 40 decibels.
Most Gaggenau refrigerators have a noise level of 38-41 decibels, which is considerably quiet.
Liebherr Monolith refrigerators are super silent, and they have a noise level of 32-44 decibels.
Verdict:
If you are searching for the quietest high-end refrigerator, consider Liebherr Monolith fridges
Ease of Installation
Integrated premium refrigerators shouldn't be hard to install or uninstall. They should glide into your kitchen spaces seamlessly without looking out of place.
The seamless integration with your kitchen and other appliances should make it easy to open and close the door without causing damage or inconvenience.
Both Liebherr Monolith and Gaggenau refrigerators are easy to install. However, you shouldn't attempt to install the fridges yourself, no matter how easy it looks.
Always allow the pros from the company to handle all installation tasks.
Verdict: It's a tie as far as installation is concerned
Warranty
Let's face it. Buying a luxury refrigerator is a massive investment. For this reason, it is essential to find out what sort of protection you have in case of damage or malfunctions.
Most fridge manufacturers offer warranty coverage on all their products. However, the warranty only covers damage, defects, repairs, and replacements that might arise due to the manufacturer's fault.
Both Liebherr and Gaggenau refrigerators come with a two-year warranty. However, you can buy a 5-year extension for Gaggenau refrigerators and a 5-year and 10-year extension for Liebherr refrigerators.
Verdict:
Both come with a two-year warranty, but Liebherr has more options in terms of warranty extensions
FAQs
Is Liebherr a good brand?
Liebherr is an excellent brand, mainly if you are searching for an eco-friendly refrigerator. The brand has made a name for itself through its "Thinking Green" home appliances.
Besides, the company has over 65 years in business, making them the ideal choice in manufacturing top-quality products.
Is Liebherr part of Miele?
No, Liebherr is not part of Miele. Even though both brands were established in Germany, they are two separate entities owned by different people. 
Liebherr is a family-owned multinational founded in 1949, while Miele is one of the oldest appliance manufacturers established in 1899. 
While Liebherr deals in construction machines, farming machinery, and domestic appliances, Miele specializes in domestic and commercial appliances.
How long does a Liebherr fridge last?
The average fridge should last between 8 to 12 years. However, Liebherr manufactures top-quality refrigerators that can last anywhere between 10 and 20 years. 
You may need to repair your fridge after about eight years due to normal wear, but expect it to last beyond that period.
Where are Liebherr made?
Even though Liebherr has its headquarters in Bulle, Switzerland, its main production facilities are in Germany.
The Liebherr Group might consist of 140 companies, but its refrigerators are made in various facilities in Southern Germany.
What brands of fridges are most popular?
The popularity of various fridge brands depends on personal preference. What might seem popular to you might not be popular to another customer. 
Nevertheless, the brands that seem popular according to sales statistics include:
GE
LG
Frigidaire
Whirlpool
Samsung
Miele and Liebherr are popular with consumers looking for eco-friendly refrigerators.
Final Verdict
If you check out all the comparisons, Liebherr Monolith seemingly has the edge over Gaggenau refrigerators.
Liebherr fridges are better quality, energy-efficient, eco-friendly, and they come with more warranty options.
So, if you are searching for a premium refrigerator, look no further than Liebherr.
About Post Author