Gaggenau and Miele are some of the biggest names in the home appliances market. Most Customers are spoilt for choice since both brands manufacture top-quality products.
Whether you are looking for a cooktop or a convection oven, you can rely on both companies to deliver to your expectations.
This brings us to the big question, is Gaggenau better than Miele? Well, let's find out.
Is Gaggenau Better Than Miele?
Gaggenau is not better than Miele since both companies have specific product lines. Gaggenau focuses on producing ovens, microwaves, combi-steam ovens, cooktops, ventilation appliances, and vacuuming drawers.
On the other hand, Miele are experts in manufacturing dishwashers, rotary irons, speed ovens, refrigerators, wine coolers, freezers, and coffee systems.
In terms of experience, Gaggenau has been in business since 1683, while Miele has been around since 1899.
When comparing the two brands, Gaggenau has an advantage experiencewise since they have been able to withstand the test of time ever since its inception.
Also read Liebherr Monolith Vs. Gaggenau.
When it comes to energy efficiency, Miele has the edge over Gaggenau. Even though Gaggenau appliances have an efficiency rating of A+, Miele products are more energy-efficient.
They come equipped with several eco-friendly functions like Spin & Spray and Power Wash. In contrast, most Gaggenau products are luxury appliances that focus on aesthetics rather than energy efficiency.
Pricing is another distinguishing factor when shopping for home appliances. Gaggenau appliances might be pricier than Miele products, but they make up for this by offering good value for money.
Gaggenau products are in a class above the rest and worth every dime thanks to their signature finishes and advanced technology.
Also read Is Liebherr The Same As Miele?
What Is Gaggenau All About?
Gaggenau is a German-based home appliances company owned by Bosch. The company was established in 1683 in Black Forest, Germany.
The firm first started in metallurgical engineering before shifting to producing agricultural machinery. In 1991, Gaggenau ventured into domestic appliances and was later acquired by Bosch-Siemens in 1995.
The firm now specializes in producing a variety of home appliances such as espresso machines, ovens, microwaves, combi-steam ovens, warming drawers, wine climate cabinets, and ceramic cooktops, among many other products.
What is Miele All About?
Miele is another famous brand in the domestic appliances industry. Established in 1899 in Germany, the firm is one of the oldest manufacturers worldwide.
They specialize in producing a wide range of domestic and commercial appliances such as refrigerators, wine coolers, freezers, vacuum cleaners, washing machines, dishwashers, convection ovens, and coffee systems.
Gaggenau vs. Miele Compared
To find out whether or not Gaggenau is better than Miele, you have to compare some of their most important attributes. Here is a comprehensive list of the top qualities to compare:
Product Line
When shopping for home appliances, consider purchasing from a company that has a large inventory.
The good news is that both Gaggenau and Miele have a wide range of products that can help transform your space. 
Some of the products you should expect from these companies include ovens, coffee machines, cooktops, ventilation, refrigerators, wine cabinets, dishwashers, and laundry solutions.
Verdict:
No clear winner as both companies have a wide range of products
Reliability
Reliability is an important feature when buying home appliances. After all, various consumer reports show that up to 40 percent of domestic appliances break down within the first five years of use.
Given that both Gaggenau and Miele are premium quality brands, it is not surprising that they cost more than other brands.
The good news is that both Gaggenau and Miele are highly dependable. You can expect them to deliver to your expectations for years to come.
Since their products are reliable, it only means you can be sure about their durability.  This will save you money in the long term.
Verdict:
Both Gaggenau and Miele tie in terms of reliability.
Read Miele Oven Vs. Neff.
Sustainability
According to Gaggenau, the company is supposedly committed to the principle of sustainability.
The appliances firm focuses on the responsible use of resources to protect the environment and the welfare of future generations.
Miele has a competitive edge as far as sustainability is concerned. The company has even won several awards due to its sustainability efforts.
The firm uses ecologically friendly materials in all its production processes to reduce the impact of its products on the environment.
Verdict: The sustainability efforts by Miele are more commendable compared to Gaggenau. For this reason, Miele carries the day on this front.
Warranty
Gaggenau and Miele products do not come cheaply. For this reason, it is a good idea to check on the warranty coverage to help protect your investment.
Both companies offer a 2-year warranty on most of their products, and they promise to correct, repair, or replace any defects in workmanship.
The main difference is that Gaggenau offers a 5-year limited warranty on some of their products.
Verdict:
Gaggenau is the winner here because of their 5-year limited warranty on selected products.
Is Gaggenau a Luxury Brand?
Yes, Gaggenau is a luxury brand that offers premium-grade home appliances. The company has been in business for over 300 years, offering customers a wide range of products.
It is best known as one of the pioneers of the convection steam oven. The brand is also renowned as the first company to produce ceramic cooktops.
The German brand is famous for its uncompromising perfection, not to mention its pioneering role in innovation.
It has a solid industrial craftsmanship tradition, and it has won several awards for its sophisticated technology and grand architectural statements.
Most notably, the company won every nominated category of the IF Design Awards of 2008.
Is Gaggenau Owned by Bosch?
Yes, Gaggenau is owned by Bosch as part of their 11-brand product portfolio. Previously, Gaggenau was a single-owned company under Louis William Margrave.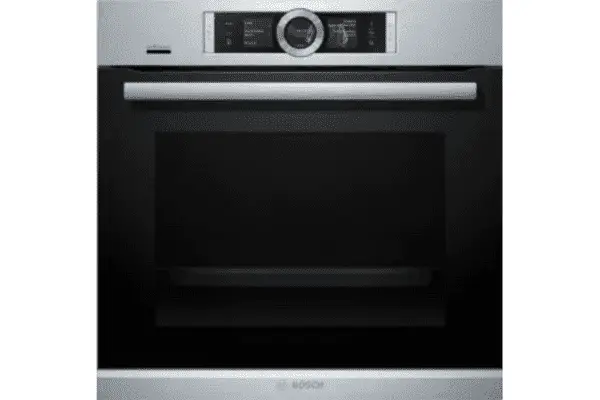 It focused mainly on producing farming and agricultural machinery following the industrial revolution of the 1880s.
It was not until 1991 that Gaggenau shifted to manufacturing washing machines, dishwashers, tumble dryers, and extractor hoods.
Bosch came on board in 1995, and the company shifted to focus on producing luxurious home appliances.
Gaggenau has since grown in leaps and bounds to become one of the biggest brands on the domestic appliances market.
Where Is Gaggenau Made?
Gaggenau is made in Germany. The company was founded in Black Forest, Germany, and has maintained its operations in the country even after its acquisition by Bosch.
However, Gaggenau has branches worldwide in South Africa, China, Korea, Japan, Australia, New Zealand, France, Poland, Canada, and the USA.
Many of these countries do not have manufacturing plants for Gaggenau but act as service and pick-up centers.
How Much Does a Gaggenau Oven Cost?
A standard 27-inch Gaggenau oven costs about $3,000, while a 24-inch Gaggenau steam oven is around $3,500.
As you already know, Gaggenau deals in luxury products, so it is not surprising that their products cost that much.
Nevertheless, if you consider the sophisticated technology and innovation of Gaggenau products, there's no doubt that they are worth every dime.
Are Gaggenau Ovens Gas or Electric?
Gaggenau ovens are neither gas nor electric. The company is renowned for its convection and steam ovens.
In fact, it is widely acclaimed as one of the first companies to develop the combi-steam oven used in domestic kitchens.
Does Gaggenau Make Microwaves?
Yes, Gaggenau does make microwaves. The company has six different microwaves in their 200 series.
These microwaves feature flush installation, handless doors with automatic opening, and five programmable modes.
Moreover, the units are a combo of a microwave and a grill, giving culinary more versatility in their kitchens.
Who Owns Miele?
Miele is a corporate body owned by two families, including the Miele family and the Zinkann family. 
The two families do not have equal shares. The former owns 51 percent, while the latter holds 49 percent in shares.
Where Are Miele Appliances Made?
Miele appliances are made exclusively in Germany. The company has 11 different factories spread across the country, making most of its components and products.
The firm also has one production site in Romania where it produces and supplies electronic modules and sensors.
The Euskirchen factory manufactures over six million motors, while the Bielefeld factory produces over two million dishwashers and vacuum cleaners annually.
Nevertheless, Miele has one production site outside Europe, located in China. The Dongguan factory in China produces a series of vacuum cleaners
Is Miele Made in China?
Miele is made in Germany, but the firm has a production site in Dongguan, China. This factory is responsible for the production of a series of vacuum cleaners.
The factory has employed over 450 employees, manufacturing close to 600,000 vacuum cleaners annually.
What is the Most Reliable Oven Brand?
Industry experts consider Bosch as the most reliable oven brand. The consortium has made a name for itself by investing in eleven different companies, including Gaggenau.
Other reliable oven brands include Viking, Jenn-Air, Samsung, GE, Whirlpool, Frigidaire, KitchenAid, LG, Thermador, and Café.
Final Verdict
Deciding whether Gaggenau is better than Miele is all a matter of personal preference. Some people prefer Gaggenau, while others would settle for Miele for various reasons.
Whatever the case, however, both brands are excellent in their own right thanks to their innovativeness and sophisticated technology.
About Post Author