Environmental policy is a set of measures and laws initiated by a government, organization, or individual to monitor and manage the impact of human activities on the environment. 
These measures seek to reduce the adverse effects human activities can have on the environment, such as pollution, deforestation, and desertification.
A simple example of an environmental policy is any law that addresses chemical spills by factories or oil spills by petroleum companies.
If you have a passion for conserving our ecosystems and saving the environment from destruction, consider undertaking a course in environmental policy. 
Pursuing this degree program can give you a comprehensive understanding of the importance of conserving natural resources and protecting ecological systems for current and future generations.
It can also give you an upper hand in enlightening the public about environmental protection from an expert's point of view.
In this post, we discuss various topics regarding environmental policy. We also highlight the top seven colleges offering environmental policy degree programs.
What is the main goal of environmental policy?
The main goal of environmental policy is to prevent and reduce the adverse impact of society on the environment without compromising human welfare. It advocates for a balance in the use of natural resources and the production of waste to safeguard our ecological systems.
The relationship between humans and the environment is somewhat one-sided.
Humans rely on the environment for food, water, natural resources, raw materials, and even air, while nature depends on humans to protect it from destruction.
Without an environmental policy in place, our ecosystems are at risk of overexploitation and depletion.
What jobs can you get with environmental policy?
As the world responds to the effects of climate change and global warming, environmental policy is proving to be a fast-growing field.  After the successful completion of your degree in environmental policy, you can pursue a career as a:
Environmental policymaker
Environmental planner
Environmental compliance inspector
Environmental scientist
Environmental policy analyst
Sustainability specialist
Climate resilience specialist
Environmental activist or lobbyist
Environmental policy experts spend their time in the office reading, researching, and refining policies to safeguard our natural systems.
They may also spend time outdoors verifying compliance and implementing various job-related programs.
Top 7 best colleges for environmental policy
With interest in the environment gaining traction, many colleges are now offering various environment-related programs. 
Enrolling in the best institutions will ensure that you acquire the skills and knowledge to advance your interest as an environmental advocate.
Here is a list of the top 7 best colleges for environmental policy:
Indiana University – Bloomington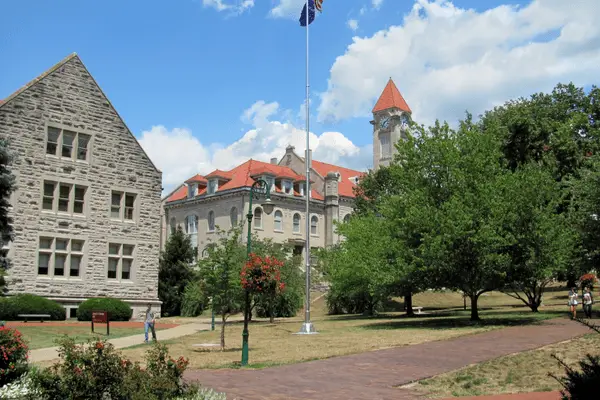 Indiana University in Bloomington is one of the best public institutions offering environmental policy and management programs. 
The university is a top performer academically, with over 79% of the students graduating every year after completing their courses.
With its high academic standard, one would expect admissions to be highly competitive. Surprisingly, the university has an acceptance rate of over 78%.
Reasons to join: The college is a top performer, and the fee is reasonably affordable. Besides, over 84% of students can access financial aid. 
You will also enjoy the cultural diversity, party scene, and campus vibe.
What you may not like: The dorms require significant improvements
University of Washington (Evans)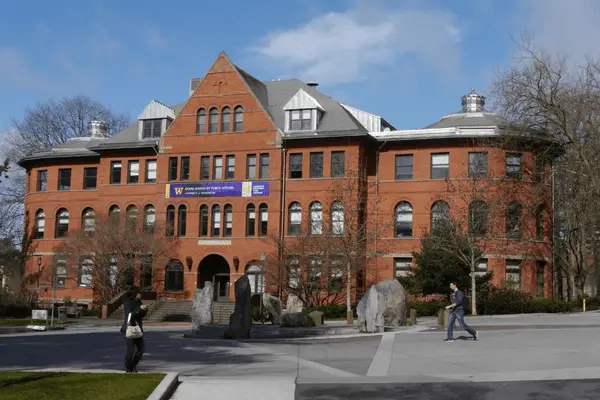 If you are searching for an institution that focuses purely on policymaking and governance, the University of Washington (Evans School) should be your next port of call.
Based in Seattle, Washington, the institution has various specialty degree programs, including Environmental Policy & Management. It also has a Master's program in the same.
The acceptance rating is 67%, and up to 94% of students who reach their final year graduate.
Reasons to join: The school's academic programs focus primarily on policy and management. Besides, it is in an urban setting with a vibrant nightlife
What you may not like: The cost of living is out of reach for many students
Duke University (Sanford)
From the impressive academic performance to the reasonable fees, Duke University is another excellent choice for anyone who wants to pursue a degree in Environmental Policy.
This private, Christian university ranks highly on every front even though it only has an acceptance rate of 8%.
Over 95% of students who join this institution go on to graduate after completing their degree courses.
Reasons to join: Great for students interested in sports, and campus life is equally impressive.
What you may not like: The location of the college is not so much appealing
University of California – Berkeley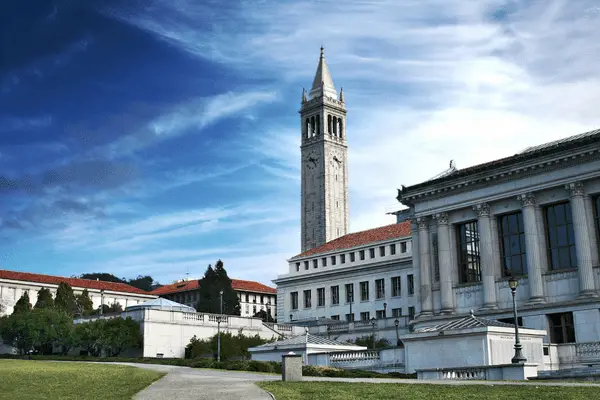 The University of California does not need any introductions as it is one of the most popular institutions offering Environmental Policy programs.
You have to sweat if you want to join this institution since the acceptance rate is only 16%. Nevertheless, up to 93% of students who manage to enroll go on to graduate.
Reasons to join: The university is renowned for its top performance, rich diversity, vibrant party scene, and great campus life
What you may not like: Campus food is bland, and the dorms need significant improvements
Arizona State University
You will find various policy studies such as Urban Policy, Social Policy, and Environmental Policy at Arizona State University. 
This college is relatively popular with students because of its high acceptance rate of 86% and affordable fees.
Reasons to join: The university scores highly in terms of academics, diversity, student life, and campus food
What you may not like: Only about 63% of the students go on to graduate
Columbia University
The Columbia University in New York is an academic powerhouse that accepts students from all walks of life. While its cultural diversity is unmatched, the college has one of the lowest acceptance rates on this list.
The college boasts of over 100 areas of study and 200+ research centers within the campus. These facilities make it an ideal choice for environmental policy students.
Reasons to join: Everything about this college is impressive. From the location to academics to the party scene
What you may not like: Sports is not a priority at this institution
Carnegie Mellon University (Heinz)
Your four years of study won't go to waste once you join Carnegie Mellon University in Pennsylvania. This institution has some of the most hardworking teaching staff if the students' comments are anything worth noting.
Despite the praise, the acceptance rate is low, and the fees are higher than other institutions.
Reasons to join: Excellent academic performance and impressive cultural diversity
What you may not like: Campus life is somewhat unexciting and the food offered lacks variety
Why study environmental policy?
To many people, studying environmental policy is more of a calling rather than a profession.
Most students who pursue this program are passionate about the environment, and they want to learn how to create laws and policies that deliberately protect our natural systems.
Issues such as climate change, food security, and renewable energy are quickly becoming a central talking point.
Having a degree in environmental policy can give you a voice to talk authoritatively from an expert's point of view.
Another reason why studying environmental policy is important is that the program uses an interdisciplinary approach.
The skills and knowledge obtained from this course can prove helpful in other fields such as law, governance, journalism, business, and medicine.
Can you major in environmental policy?
Yes, you can major in environmental policy, but only if you pursue it as an area of study under another degree program.
The good news is that many environment-related degree programs include environmental policy as one of their core courses. 
When majoring in environmental policy, much of your focus will be on this particular course, and it has a subset of subjects that you have to study and pass to graduate.
What Major is environmental policy?
Environmental policy can be a major under Environmental Sciences. When pursuing a degree in Environmental Sciences, you can major in environmental policy as one of the core courses.
You can also major in environmental policy under Social Sciences. In any case, social sciences and environmental policy are almost synonymous. They both study the behavioral causes of various environmental issues.
Environmental policy can be a good major in Law School if you want to become an Environmental Lawyer.
Is a Masters in environmental policy worth it?
Yes, a Masters in Environmental Policy is worth your time and effort. While an undergraduate degree in environmental policy will give you adequate skills to legislate various laws, a Masters's degree helps you develop specialist industry knowledge.
As you probably know, environmental issues are dynamic, meaning current policies might not be sufficient to tackle emerging problems.
With your advanced expertise, you can develop and enact new laws and measures to handle these issues.
Having a Masters degree also opens up more opportunities to advance your career. It also increases your earning potential as you climb up the career ladder.
What is the best college for environmental law?
The best college for environmental law is the University of California – Berkeley. It ranks among the top as one of the best law schools in the country that offer environmental law programs.
As if that is not enough, the university's environmental law programs tie at the top with similar programs offered at Lewis & Clark College (Northwestern) and Pace University (Haub).
Final thoughts
Your role as a good citizen of the world is to conserve the environment and protect natural resources from overexploitation.
However, there's nothing much you can do if you don't understand the laws and policies regarding the same.
Pursuing a degree in environmental policy can help you develop the right skills and knowledge to create and enact proper laws to safeguard our ecosystems and natural resources from the adverse effects of human activities.
About Post Author