Electric vehicles have recently experienced a surge in popularity, with different manufacturers jostling for a share of the growing market. 
While many conversations around these vehicles usually center on their performance and environmentally friendly design, EV enthusiasts are increasingly becoming interested in their towing abilities. 
In response to this, EV manufacturers have started investing more in vehicles that lend themselves to towing. While most EVs are luxury sedan-styled cars that aren't typically associated with hauling, the electric SUV and truck market segments are starting to grow rapidly. 
In this post, you'll learn everything you need to know about EV towing capacity as well as some of the best electric vehicles for towing in the market today.
Can Electric Vehicles Tow?
Most common misconceptions and concerns that abound when it comes to EVs typically have to do with their ability to haul cargo. Indeed, many people believe EVs aren't built for towing. But this is only partially true. 
While electric pickup trucks generally have lower tow ratings compared to their fuel-powered counterparts, many EV trucks have a pretty decent hauling capability thanks to their torque output. 
High-rated towing vehicles are suited for hauling bulky cargo since they generate a lot of torque at low engine RPMs. This allows the driver to move a large load with little effort from the engine. 
The fact that EV trucks and SUVs produce maximum torque from the moment their motors start running is what gives them an edge over petrol and diesel-powered haulers.
That said, towing can have a significant impact on an EVs range since the extra power required to haul cargo can drain battery charge very quickly. 
What Are The Best Electric Vehicles For Towing?
Now that we've established that EVs can tow, and in some cases, a lot better than fuel-powered haulers, here are some of the best EVs for towing in the market:
KIA EV6
The 2022 edition of the KIA EV6 is a 5-seater all-electric crossover with a range of 310 miles at full charge. 
It has a fast charging time of up to 80% in just 18 minutes, which translates to a full charge in under half an hour. This makes it great for hauling over long distances if you need to recharge during the journey. 
In terms of towing ability, the KIA has a capacity of up to 2,300 pounds, which makes it a great hauler for both lightweight and bulky cargo. This is all made possible thanks to its engine, which produces a torque output of 446 lb-ft.
While it comes standard with rear-wheel drive, you can opt for the all-wheel drive option which delivers better handling in rocky and rough terrain as well as in inclement weather conditions.
The KIA EV6 also comes with a slew of safety and driver assistance features to make long-distance hauling safe and hassle-free. These include blind spot monitoring, surround view monitoring, and auto emergency braking. 
BMW iX
The BMW iX is a specked-out luxury SUV that comes at a hefty price tag but is very much worth every penny if you're going for one of the best haulers in the market. 
The 2023 edition comes in two trim options, the xDrive50, and the M60, both of which can tow up to 5,500 pounds of cargo. 
The xDrive50 comes with a monster powerplant that delivers 516 horsepower and 564 lb-ft of torque. On the other hand, the M60 has an even more powerful and impressive motor with a maximum output of 610 horsepower and 811 lb-ft of torque.
Both iX trims come with all-wheel drive which provides great traction if you're hauling large caravans on slippery or rough terrain. This high-end SUV also comes with a 105 kWh battery which guarantees more than a decent range. 
Polestar 2
The 2022 Polestar 2 is a hatchback-styled all-electric crossover vehicle that delivers a comfortable drive and responsive handling as well as a decent towing capacity of 2000 pounds. 
It comes in single and dual-motor options, with the former delivering a range of about 270 miles and the latter having a range of 249 miles. 
The single-motor option delivers an output of 231 horsepower and 243 lb-ft of torque whereas the dual-motor option gives you 408 horsepower and 487 lb-ft of torque.
All models also come with an assortment of safety and driver assistance features including blindspot monitoring, adaptive cruise control, and automatic emergency braking with pedestrian detection. 
Tesla Model Y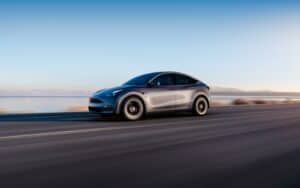 No conversation about EVs can be complete without mentioning Tesla, considering the significant influence and stake that this manufacturer holds in the EV world. 
And when it comes to ranking the best haulers in the market, the Model Y most definitely deserves a mention. 
This small yet powerful SUV has a fairly spacious interior with a stylish design and special features like touchscreen climate control to provide maximum comfort during long hauling trips. 
The Model Y has a towing capacity of 3500 pounds which is quite impressive considering the fairly diminutive build of this EV. It also has a remarkable range of 330 miles and a very quick recharge time. 
Its all-wheel-drive configuration allows for better traction and superior handling on all kinds of roads and in any weather, while its Autopilot mode's safety and driver assistance features provide enhanced safety and convenience behind the wheel.
A Final Verdict
While EV manufacturers are constantly pushing the envelope when it comes to developing futuristic and environmentally conscious cars, the focus is starting to shift from luxury EVs to more practical ones. 
As such, if you are looking for a powerful all-electric hauler, rest assured there are plenty of options to choose from no matter your hauling needs and budget. 
Join Amazon Prime – Watch Thousands of Movies & TV Shows Anytime – Start Free Trial Now
About Post Author